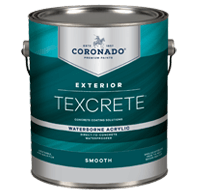 Texcrete® WB Acrylic Masonry Waterproofer
Coronado
Texcrete
Exterior
Texcrete Direct-to-Concrete Waterproofer is a VOC-compliant waterproofing coating that can be applied directly to both cured and uncured high-pH concrete. Available in a range of textures, it requires neither primer nor filler when applied to smooth masonry surfaces.
Breathable, high-build film
Passes the ASTM D6904 wind driven rain test and protects against salt spray, acid rain, and UV light
Allows moisture to pass through without blistering or loss of adhesion
Superior durability
Mildew resistant
VOC compliant
Can be applied to virtually any masonry surface
See Hunter Coatings for your Texcrete product today!